Axon Panel in award winning home
Dairy Flat home wins at House of The Year Awards

"There is no alternative product in New Zealand that has the same spread as Axon. It works really well in expansive, contemporary spaces like this home."
Winner of the Gold and Gold Reserve Award at the Master Builders House of The Year Awards, this stunning four bedroom, three bathroom residence in Dairy Flat, north of Auckland, exudes opulence. Through clever design and building material choices, Aesthetic Design has achieved excellent indoor-outdoor flow and smooth transitions between spaces. The contemporary H-shaped dwelling is smartly arranged on a 425 m² footprint, providing both privacy and space to socialise, with a sheltered outdoor area protected from the elements.
The legs of the H shape are clad in warm cedar shiplap, which will grey to a rustic silver colour over time. This contrasts beautifully with Axon Panel fixed vertically to the centre sections and garage, and painted black. Aesthetic's design brief was to use materials that were cohesive and contextually relevant. Axon Panel allowed them to achieve a harmonious design and distinctive, modern look, in keeping with the ethos of the rest of the house.
Design flexibility
Axon Panel has a similar profile and grooves to traditional vertical shiplap weatherboards and other timber alternatives, with the added benefits of premium fibre cement. Classified as a lightweight cladding, Axon Panel is a fast and effective way to cover a home's exterior.
Ben Cashmore, owner of Cashmore Contractors, says it was an obvious choice for the build. "There is no alternative product in New Zealand that has the same spread as Axon. It works really well in expansive, contemporary spaces like this home." Cashmore says selecting HardieSoffit Lining for the soffits and eaves was also a "no brainer" – he does not use any other product. The flat sheets are manufactured from robust fibre cement and are specifically designed for the narrow soffit around the perimeter of the house. The sheets have an un-sanded finish, allowing them to use a coating that ties in beautifully with the marble walkway flowing into the heart of the home.

Tile & Slate Underlay by James Hardie was also installed under the American hardwood oak floor in the open plan kitchen and living room to raise the level and provide a seamless junction with the marble tiles. The Tile & Slate Underlay is a hard wearing product perfect for these heavy use areas. It's also designed to protect the finished floor from movement that occurs naturally in wood based flooring products.
Location
Dairy Flat, New Zealand
Featured Products
Industry Professionals
Designed by Aesthetic Design and built by Ben Cashmore and the team at Cashmore Contractors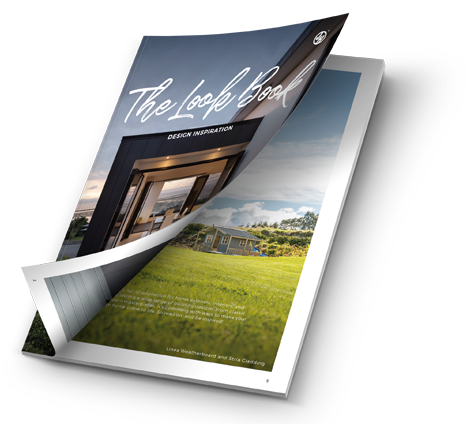 The Look Book
DESIGN INSPIRATION
The Look Book is full of inspiration for home exteriors, interiors, and outdoor areas, covering a wide range of building designs. From classic to modern masterpieces, it's brimming with ways to make your dream home come to life. So download a copy, and be inspired!
NEED SUPPORT?
For immediate general and technical assistance you can call 0800 808 868
Talk to one of our CustomerLink or Technical Team Consultants
get
THE JAMES HARDIE PRODUCT GUIDE
See
INSPIRATIONAL IMAGES OF OUR PRODUCTS