Hardie Fibre Cement Products

James Hardie Industries is the world's #1 producer and marketer of high-performance fibre cement and fibre gypsum building solutions.

We employ a diverse global workforce of over 4,800 employees across operations in North America, Europe, Australia, New Zealand, and the Philippines, and generated more than $2.6 billion in net sales during our 2020 financial year.
We believe that home is a sanctuary and a canvas for self-expression without compromise. As the trusted innovator and industry leader in the markets where we operate, James Hardie empowers homeowners and building professionals alike to achieve their dream home with premium quality solutions that enable endless possibilities for design and aesthetics, while also delivering trusted protection and long-lasting beauty.
Key to this effort is our dedication to our customers, market-driven innovation, an inclusive and empowering company culture, and an unwavering commitment to our Zero Harm safety initiative. We also recognise the company's ability to influence the communities in which we live and work around the world. While operating with a global mindset, we put great care into how our business impacts the local communities in which we operate and serve by sourcing locally, employing locally and delivering locally.
Our business is fast-paced, and our people are smart in the way we solve problems, driven in our pursuit of results, and real in the way we build relationships and work together. We have opportunities available in manufacturing and production, sales, marketing, engineering, supply chain, accounting and finance, information technology, and more.
If you're ready to join our team, you can apply now at James Hardie APAC Careers.

New Zealand
The New Zealand office officially established in Penrose in 1937. The company's first major contract was for the exterior walls of the New Zealand Centennial Exhibition in Wellington in 1940. From the 1940s to 1981, the New Zealand plant went through several upgrades and additions in its manufacturing facilities.

In the mid-1980s, James Hardie pioneered the development of asbestos-free fibre cement technology, and began designing and manufacturing a wide range of fibre cement building products that made use of the benefits that came from the product's durability, versatility and strength.

James Hardie New Zealand have been providing Kiwi customers with smart building products made for our conditions for over 83 years. Linea™ Weatherboard was developed and perfected right here in New Zealand. It's a proven product that has been used by builders for the past 20 years and is now offered in overseas markets.
With James Hardie building products, you have the opportunity to develop your own style, using one of the most space efficient and durable building materials available.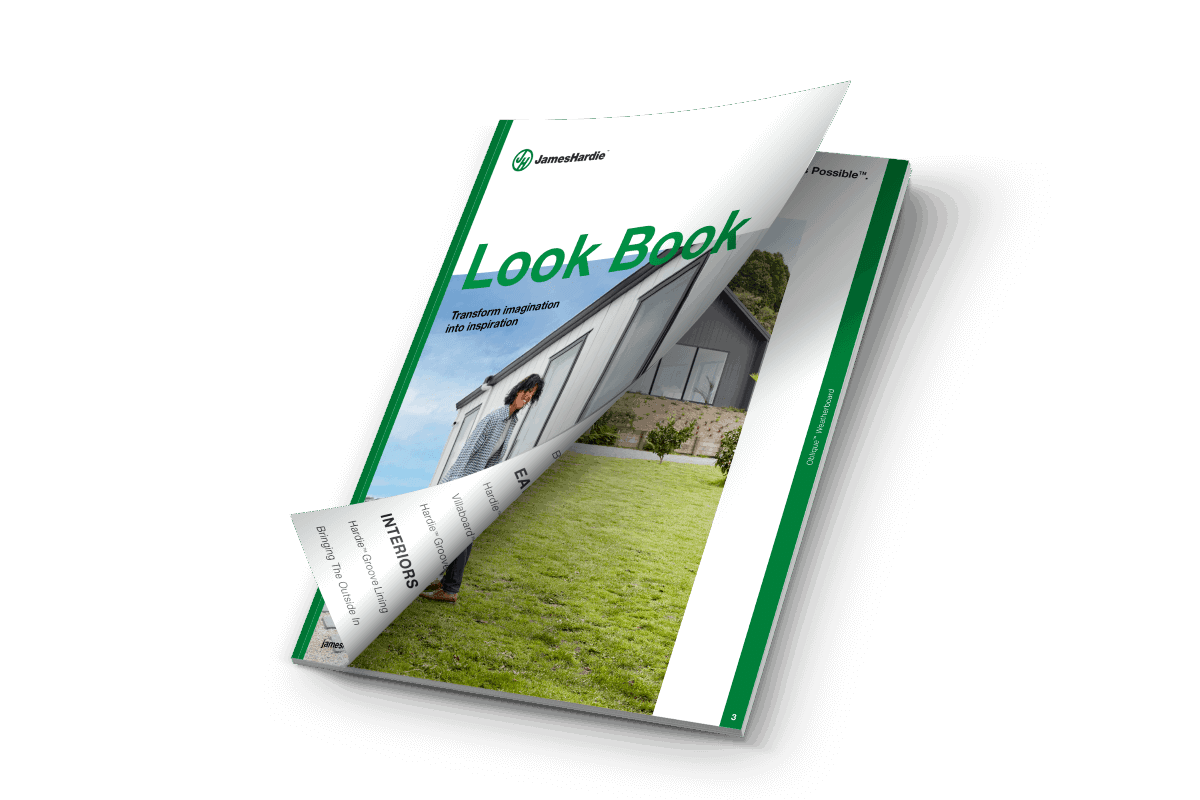 The Look Book
DESIGN INSPIRATION
The Look Book is full of inspiration for home exteriors, interiors, and outdoor areas, covering a wide range of building designs. From classic to modern masterpieces, it's brimming with ways to make your dream home come to life. So download a copy, and be inspired!
NEED SUPPORT?
For immediate general and technical assistance you can call 0800 808 868
Talk to one of our CustomerLink or Technical Team Consultants
CHOOSE YOUR STYLE
Traditional
STYLE
Traditional design gives you that simple classic look, more formal than other design styles, traditional homes feature timeless finishes.
Modern
STYLE
Modern home designs offer clean lines, simple proportions, open layouts, mixed cladding and interesting roof lines.
Horizontal
INSTALLATION TYPE
Clean, horizontal lines establish a look of simplicity and capture a timeless classic charm
Vertical
INSTALLATION TYPE
Vertical lines are a great way to achieve a modern architectural style and make a bold statement
Textured
SURFACE
A wood-grain type finish or board and batten can bring a interest to your outdoor space
Smooth
SURFACE
A smooth finish helps create a clean distinctive design look
EasyLap Panel
Panel
Use EasyLap panels to create a clean look and finish with a textured paint for that rendered look
Linea Weatherboard
Weatherboard
Create the look of a classic weatherboard with deep shadow lines in 150mm width. Add the finishing touches around doors, windows and corners with Axent Trim painted in a contrasting colour
HardieFlex Sheet
Panel
The traditional look of board and batten gives texture and depth to your design. Use EasyLap Panel or HardieFlex Sheet to achieve this classic look
Axon Panel
Panel
Axon Panel 133mm in a smooth finish provides the narrow board look of a traditional design but with a unique vertical look
Linea Weatherboard
Weatherboard
To achieve a look of texture use weatherboards in the wider 180mm profile of Linea Weatherboard for that modern touch
Linea Oblique Weatherboard
Weatherboard
For a modern twist on a classic profile use Linea Oblique Weatherboard. The 300mm profile used horizontally creates a look that's confident and contemporary
Axon Panel
Panel
Be bold with a dramatic full wrap that creates a pristine look. Axon 133mm grained painted black created a dramatic modern look
Stria Cladding
Panel
The wider format of Stria Cladding makes your home look distinctive and modern
get
THE JAMES HARDIE PRODUCT GUIDE
See
INSPIRATIONAL IMAGES OF OUR PRODUCTS