James Hardie Fibre Cement Products

James Hardie is an international building product manufacturer and a global leader in fibre cement products.

Now operating in its 132nd year, the company continues to challenge convention within the construction industry and leads the way in delivering innovative building products and solutions.
The predecessor to the current James Hardie company was established in 1888, when the enterprising young James Hardie, searching for new opportunities, left his family's tannery business in Scotland and emigrated to Melbourne, Australia, where he established an import business. While on a trip to London in 1903, James chanced upon 'fibro-cement', a new type of roofing and lining slate that was made in France, and began importing it in to Australia.
The second major figure in the company's origins, fellow Scot, Andrew Reid, knew James Hardie and maintained contact from Glasgow. Encouraged by prospects in Australia, he arrived in Melbourne in 1892 and joined James Hardie's business, becoming a full partner in 1895. Reid's outgoing, energetic and visionary talents combined well with Hardie's sound commercial judgement and the business thrived.
James Hardie retired in 1911 and sold his half of the business to Andrew Reid, whose family led the expanding business from 1911 until 1995, when his grandson John B Reid retired.

New Zealand
The New Zealand office officially established in Penrose in 1937. The company's first major contract was for the exterior walls of the New Zealand Centennial Exhibition in Wellington in 1940. From the 1940s to 1981, the New Zealand plant went through several upgrades and additions in its manufacturing facilities.

In the mid-1980s, James Hardie pioneered the development of asbestos-free fibre cement technology, and began designing and manufacturing a wide range of fibre cement building products that made use of the benefits that came from the product's durability, versatility and strength.
Today, James Hardie is a global leader in fibre cement products, manufacturing and technology. It has manufacturing operations in North America, Europe, Australia, and the Philippines. The company employs over 4,900 people who generate more than USD$2.5 billion revenue a year.
James Hardie New Zealand have been providing Kiwi customers with smart building products made for our conditions for over 83 years. Linea™ Weatherboard was developed and perfected right here in New Zealand. It's a proven product that has been used by builders for the past 19 years and is now offered in overseas markets.
With James Hardie building products, you have the opportunity to develop your own style, using one of the most space efficient and durable building materials available.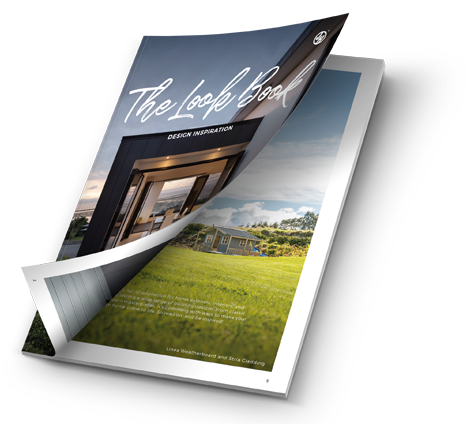 The Look Book
DESIGN INSPIRATION
The Look Book is full of inspiration for home exteriors, interiors, and outdoor areas, covering a wide range of building designs. From classic to modern masterpieces, it's brimming with ways to make your dream home come to life. So download a copy, and be inspired!
NEED SUPPORT?
For immediate general and technical assistance you can call 0800 808 868
Talk to one of our CustomerLink or Technical Team Consultants
CHOOSE YOUR STYLE
Traditional
STYLE
Traditional design gives you that simple classic look, more formal than other design styles, traditional homes feature timeless finishes.
Modern
STYLE
Modern home designs offer clean lines, simple proportions, open layouts, mixed cladding and interesting roof lines.
Horizontal
INSTALLATION TYPE
Clean, horizontal lines establish a look of simplicity and capture a timeless classic charm
Vertical
INSTALLATION TYPE
Vertical lines are a great way to achieve a modern architectural style and make a bold statement
Textured
SURFACE
A textured or wood-grain type finish can bring a softer touch to your outdoor space
Smooth
SURFACE
A smooth finish helps create a clean distinctive design look
James Hardie Weatherboards
Weatherboard
Rusticated and Frontier Weatherboards are perfect when you're after a traditional weatherboard look with a textured finish
Linea Weatherboard
Weatherboard
Create the look of a classic weatherboard with deep shadow lines. Add the finishing touches around doors, windows and corners with Axent Trim painted in a contrasting colour
EasyLap Panel
Panel
Use EasyLap panels to create a clean look and finish with a textured paint for that rendered look
Axon Panel
Panel
Axon Panel 133mm in a smooth finish provides the narrow board look of a traditional design but with a unique vertical look
James Hardie Weatherboards
Weatherboard
Try a textured weatherboard and mix claddings to create a modern look
Linea Oblique Weatherboard
Weatherboard
For a modern twist on a classic profile use Linea Oblique Weatherboard. The 300mm profile used horizontally creates a look that's confident and contemporary
Axon Panel
Panel
Be bold with a dramatic full wrap that creates a pristine look. Axon 133mm grained painted black created a dramatic modern look
Stria Cladding
Panel
The wider format of Stria Cladding makes your home look distinctive and modern
get
THE JAMES HARDIE PRODUCT GUIDE
See
INSPIRATIONAL IMAGES OF OUR PRODUCTS