Sustainability

Building a Better Future For All
Sustainability is built into our strategy
Our purpose has become our guiding light, defining why we do what we do: Building a better future for all.
One critical way that we will deliver on our purpose is by embracing bold and meaningful Environmental, Social, and Governance (ESG) commitments. We are advancing our ESG commitments with even larger ambitions across the company while putting roadmaps in place to get us there and hold ourselves accountable.
Sustainability is a never-ending journey for us. So, we continue to identify and develop solutions that do right by our planet, our people, and the communities where we operate.

Raising our level of ambition
James Hardie is committed to improving our sustainability performance proactively by carefully managing our social and environment impacts. To help us track and assess our progress, we established sustainability goals that align directly with issues that matter most to our stakeholders and our overall corporate objectives.
Encouraged by our progress in FY23 and the possibilities of what can be achieved, we have adopted new, more ambitious goals for our carbon footprint, waste and inclusion and diversity goals (I&D) initiatives. All our ESG goals ensure that James Hardie will continue to positively impact our employees, the customers we serve and the communities in which we operate.
NEW James Hardie New Zealand EPD
We are pleased to announce the launch of the first EPD for James Hardie New Zealand.
An Environmental Product Declaration (EPD) is an independently verified and registered document that communicates transparent and comparable data and other relevant environmental information about the life-cycle environmental impact of our products

Key features of our EPD include:
97% of our product volume is covered
It covers the full product lifecycle from cradle to grave for a complete picture
It uses material and manufacturing inputs from the 2021 calendar year
Recarbonation - this is a natural process in cement-based products in which cement reacts with the air and reabsorbs cardon dioxide (CO2) during the use phase of the product.
The EPD complies with ISO 14025 and EN 15804:2012+A2:2019
VOC Emission Test Certificates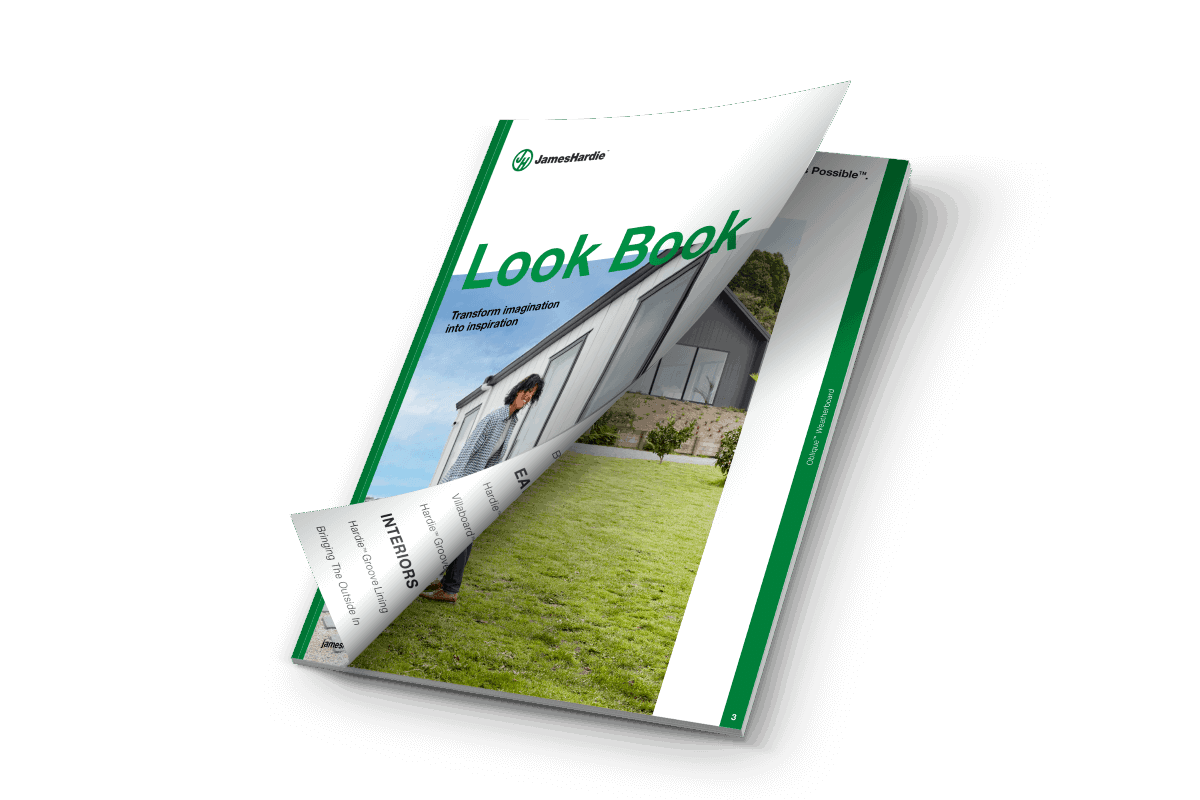 The Look Book
DESIGN INSPIRATION
The Look Book is full of inspiration for home exteriors, interiors, and outdoor areas, covering a wide range of building designs. From classic to modern masterpieces, it's brimming with ways to make your dream home come to life. So download a copy, and be inspired!
NEED SUPPORT?
For immediate general and technical assistance you can call 0800 808 868
Talk to one of our CustomerLink or Technical Team Consultants
CHOOSE YOUR STYLE
Traditional
STYLE
Traditional design gives you that simple classic look, more formal than other design styles, traditional homes feature timeless finishes.
Modern
STYLE
Modern home designs offer clean lines, simple proportions, open layouts, mixed cladding and interesting roof lines.
Horizontal
INSTALLATION TYPE
Clean, horizontal lines establish a look of simplicity and capture a timeless classic charm
Vertical
INSTALLATION TYPE
Vertical lines are a great way to achieve a modern architectural style and make a bold statement
Textured
SURFACE
A wood-grain type finish or board and batten can bring a interest to your outdoor space
Smooth
SURFACE
A smooth finish helps create a clean distinctive design look
EasyLap Panel
Panel
Use EasyLap panels to create a clean look and finish with a textured paint for that rendered look
Linea Weatherboard
Weatherboard
Create the look of a classic weatherboard with deep shadow lines in 150mm width. Add the finishing touches around doors, windows and corners with Axent Trim painted in a contrasting colour
HardieFlex Sheet
Panel
The traditional look of board and batten gives texture and depth to your design. Use EasyLap Panel or HardieFlex Sheet to achieve this classic look
Axon Panel
Panel
Axon Panel 133mm in a smooth finish provides the narrow board look of a traditional design but with a unique vertical look
Linea Weatherboard
Weatherboard
To achieve a look of texture use weatherboards in the wider 180mm profile of Linea Weatherboard for that modern touch
Linea Oblique Weatherboard
Weatherboard
For a modern twist on a classic profile use Linea Oblique Weatherboard. The 300mm profile used horizontally creates a look that's confident and contemporary
Axon Panel
Panel
Be bold with a dramatic full wrap that creates a pristine look. Axon 133mm grained painted black created a dramatic modern look
Stria Cladding
Panel
The wider format of Stria Cladding makes your home look distinctive and modern
get
THE JAMES HARDIE PRODUCT GUIDE
See
INSPIRATIONAL IMAGES OF OUR PRODUCTS