Manufactured with a focus on reducing environmental impact
Sustainability

We are committed to ecologically sustainable development (ESD) principles.
Our products are manufactured with a focus on reducing their environmental impact, using sustainable and low toxicity products with minimal volatile organic compounds (VOC's). We have continued to invest heavily in the development and design of fibre cement products that are durable, low maintenance and energy efficient.
We are committed to ecologically sustainable development (ESD) principles. As part of this commitment we measure ourselves against the following criteria:
Water and resource conservation
Energy consumption and management
Use of renewable and recyclable resources as raw materials
Avoiding the use of environmentally damaging raw materials
Pollution reduction e.g. treatment of water before its disposal into public storm water
Protection of the natural environment
The programs we've put in place to focus on these ESD principles have considerably improved the resource and energy efficiency of our operations and building systems. They will also ensure an ongoing improvement in the environmental performance of our products and services.

Our technology
James Hardie uses low- toxicity raw materials in our fibre cement products. We combine the following materials:
Portland cement
Ground sand
Cellulose fibre – unbleached pinus radiate wood pulp (from sustainable plantation timbers)
Water
Small amounts of additives required to achieve product specific characteristics
Recycled water
Process water is recycled at least four times before it is treated and released. We are continually increasing reuse and any water that needs to be discharged complies with the stringent regulations of Auckland Council. The solid waste we extract in this process is re-introduced into the mainstream production process.
Pulp
The pulp or cellulose fibre we use is an unbleached pulp. It is sourced from an ISO 9001 accredited company that produce pulp from exotic plantations grown within New Zealand. All the plantations comply with NZ Forestry Management principles.
The pulp manufacturing process also complies with environmental standard ISO 14001.
VOC's
Volatile organic compounds (VOC) are organic chemical compounds that have sufficient vapour pressure under normal conditions to vapourise and enter the atmosphere. A wide range of carbon-based molecules, such as aldehydes, ketones and other hydrocarbons are VOCs. These are chemical substances, often present in building materials, which can contribute to indoor/outdoor air pollution. Indoor air pollution can lead to a whole range of health related issues including throat and skin irritation, headaches, fatigue and coughing.
James Hardie building products are inert, benign, low-emitting materials, creating a healthier environment for you and your family.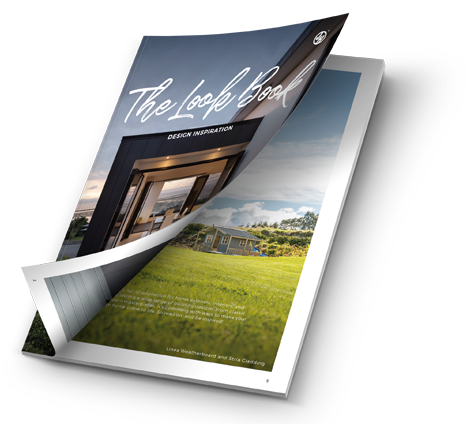 The Look Book
DESIGN INSPIRATION
The Look Book is full of inspiration for home exteriors, interiors, and outdoor areas, covering a wide range of building designs. From classic to modern masterpieces, it's brimming with ways to make your dream home come to life. So download a copy, and be inspired!
NEED SUPPORT?
For immediate general and technical assistance you can call 0800 808 868
Talk to one of our CustomerLink or Technical Team Consultants
CHOOSE YOUR STYLE
Traditional
STYLE
Traditional design gives you that simple classic look, more formal than other design styles, traditional homes feature timeless finishes.
Modern
STYLE
Modern home designs offer clean lines, simple proportions, open layouts, mixed cladding and interesting roof lines.
Horizontal
INSTALLATION TYPE
Clean, horizontal lines establish a look of simplicity and capture a timeless classic charm
Vertical
INSTALLATION TYPE
Vertical lines are a great way to achieve a modern architectural style and make a bold statement
Textured
SURFACE
A textured or wood-grain type finish can bring a softer touch to your outdoor space
Smooth
SURFACE
A smooth finish helps create a clean distinctive design look
James Hardie Weatherboards
Weatherboard
Rusticated and Frontier Weatherboards are perfect when you're after a traditional weatherboard look with a textured finish
Linea Weatherboard
Weatherboard
Create the look of a classic weatherboard with deep shadow lines. Add the finishing touches around doors, windows and corners with Axent Trim painted in a contrasting colour
EasyLap Panel
Panel
Use EasyLap panels to create a clean look and finish with a textured paint for that rendered look
Axon Panel
Panel
Axon Panel 133mm in a smooth finish provides the narrow board look of a traditional design but with a unique vertical look
James Hardie Weatherboards
Weatherboard
Try a textured weatherboard and mix claddings to create a modern look
Linea Oblique Weatherboard
Weatherboard
For a modern twist on a classic profile use Linea Oblique Weatherboard. The 300mm profile used horizontally creates a look that's confident and contemporary
Axon Panel
Panel
Be bold with a dramatic full wrap that creates a pristine look. Axon 133mm grained painted black created a dramatic modern look
Stria Cladding
Panel
The wider format of Stria Cladding makes your home look distinctive and modern
get
THE JAMES HARDIE PRODUCT GUIDE
See
INSPIRATIONAL IMAGES OF OUR PRODUCTS