Fire, Acoustic and Bracing Systems

Created for New Zealand designs and conditions
James Hardie Fire and Acoustic Rated Walls
The James Hardie fire and acoustic rated walls have been developed to assist you in selecting a suitable James Hardie product and to choose a system which will meet your performance requirements. We also have details of the systems available to assist in the material selection.
James Hardie fire cement products are classified as non-combustible materials. They also achieve better sound insulated walls and are slimmer than other traditional walling materials. These thinner walls have advantages in multi-residential, units, motels and other similar projects where maximum floor area utilisation is paramount.
James Hardie two way fire and acoustic rated systems can be used on timber or steel frames in residential or non-residential construction, such as:
Separating walls in multi-unit residential buildings (intertenancy); or
External walls close to boundaries
In terms of the New Zealand Building Code (NZBC) requirements, fire rating is referred to as FRR (Fire Resistance Rating) and is measured in minutes e.g. a FRR 30/30/30 means a fire rating for 30 minutes.
James Hardie Fire & Acoustic rated walls compliance
NZBC Clause C 'Protection from fire'
The fire resistance rating (FRR) of James Hardie fire rated systems has been verified through full scale testing and technical assessments. The systems published in the design manual are suitable to achieve passive fire protection and meet the requirements of NZBC Clause C 'Protection from fire'.
NZBC Clause B2 'Durability'
James Hardie products meet the serviceable life in excess of 50 years and meet the requirements of NZBC Clause B2 'Durability'. It must be ensured the products are installed and maintained in accordance to their published technical specifications.
NZBC Clause G6 'Airborne and impact sound'
For the systems published in the James Hardie Design Manual the STC and IIC ratings have been established through testing or acoustic modelling. Designers/specifiers must ensure that the ratings published in this manual are suitable for the intended applications. In case higher ratings are required, ask James Hardie at 0800 808 868 for assistance.


Axon Panel NFPA 285 Fire Test
Axon Panel NFPA 285 Fire Test
James Hardie Bracing Systems
The James Hardie Bracing Systems cover the installation of a range of James Hardie fibre cement products to achieve structural bracing for timber-framed buildings that fall within the scope of NZS 3604. To achieve bracing ratings published in the Design Manual, each product must be fixed in accordance with its respective details.
The James Hardie fibre cement range of products listed below are classified as lightweight cladding materials and are suitable to achieve structural bracing in timber framed buildings as per the requirements of NZS 3604 when installed in accordance with the bracing system requirements.
Villaboard Lining, internal wall lining with recessed or square edges 6mm and 9mm; suitable for wet and dry areas
HardieGroove Lining, internal wall lining
RAB Board 6mm, 9mm or HomeRAB Pre-Cladding 4.5mm, when used as rigid air barrier
HardieFlex Sheet, 6mm and 7.5mm, for external wall claddings
Monotek Sheet, 7.5mm and 9mm, for external wall cladding
Axon Panel, 9mm suitable for external wall claddings
James Hardie Bracing Systems Compliance
All James Hardie products as mentioned above have been tested at SCION as per BRANZ P21 test method to determine their bracing capacity and bracing systems have been developed to meet the requirements of NZS 3604.
James Hardie products, when installed and maintained in accordance to James Hardie technical specification requirements, comply with the requirements of B1/AS1 Structure, B2/AS1 Durability and E2/AS1 External Moisture clauses of the New Zealand Building Code (NZBC).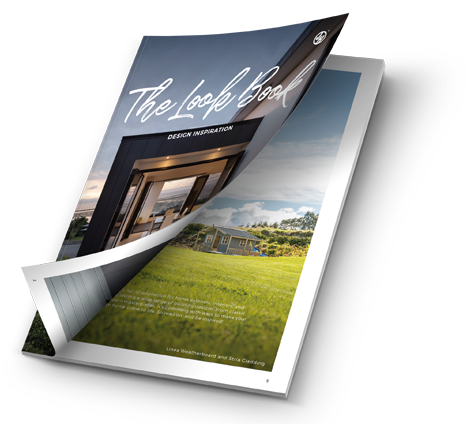 The Look Book
DESIGN INSPIRATION
The Look Book is full of inspiration for home exteriors, interiors, and outdoor areas, covering a wide range of building designs. From classic to modern masterpieces, it's brimming with ways to make your dream home come to life. So download a copy, and be inspired!
NEED SUPPORT?
For immediate general and technical assistance you can call 0800 808 868
Talk to one of our CustomerLink or Technical Team Consultants
CHOOSE YOUR STYLE
Traditional
STYLE
Traditional design gives you that simple classic look, more formal than other design styles, traditional homes feature timeless finishes.
Modern
STYLE
Modern home designs offer clean lines, simple proportions, open layouts, mixed cladding and interesting roof lines.
Horizontal
INSTALLATION TYPE
Clean, horizontal lines establish a look of simplicity and capture a timeless classic charm
Vertical
INSTALLATION TYPE
Vertical lines are a great way to achieve a modern architectural style and make a bold statement
Textured
SURFACE
A textured or wood-grain type finish can bring a softer touch to your outdoor space
Smooth
SURFACE
A smooth finish helps create a clean distinctive design look
James Hardie Weatherboards
Weatherboard
Rusticated and Frontier Weatherboards are perfect when you're after a traditional weatherboard look with a textured finish
Linea Weatherboard
Weatherboard
Create the look of a classic weatherboard with deep shadow lines. Add the finishing touches around doors, windows and corners with Axent Trim painted in a contrasting colour
EasyLap Panel
Panel
Use EasyLap panels to create a clean look and finish with a textured paint for that rendered look
Axon Panel
Panel
Axon Panel 133mm in a smooth finish provides the narrow board look of a traditional design but with a unique vertical look
James Hardie Weatherboards
Weatherboard
Try a textured weatherboard and mix claddings to create a modern look
Linea Oblique Weatherboard
Weatherboard
For a modern twist on a classic profile use Linea Oblique Weatherboard. The 300mm profile used horizontally creates a look that's confident and contemporary
Axon Panel
Panel
Be bold with a dramatic full wrap that creates a pristine look. Axon 133mm grained painted black created a dramatic modern look
Stria Cladding
Panel
The wider format of Stria Cladding makes your home look distinctive and modern
get
THE JAMES HARDIE PRODUCT GUIDE
See
INSPIRATIONAL IMAGES OF OUR PRODUCTS