Fibre cement is a simple abbreviation for Fibre Reinforced Cement. Fibre cement building materials were developed by James Hardie in the early 1980s.

Engineered for durability, fibre cement is fire resistant, rot resistant and resistant to moisture damage, making it the ideal low maintenance alternative to traditional building materials.
Fibre cement offers both contemporary and flexible design options and is used by many New Zealanders to create stunning facades. The simple combination of cellulose fibre, sand, cement and water, give the product its strength to stand the test of time.
What's it made of?
Our products are manufactured using safe and sustainable building products and contain minimum Volatile Organic Compounds (VOCs) like formaldehyde.

Fibre cement is a mixture of:
Locally sourced cellulose fibre, from plantation grown Radiata Pine trees
Portland Cement
Sand
Water
Small amounts of other additives are used to help the process, or provide products with particular characteristics.
Where can you use fibre cement?
James Hardie fibre cement boards are used in renovations, commercial buildings and in the construction of new homes for:
External cladding
Internal lining - floors, ceilings and walls
Structural flooring
Wet area lining - bathroom
Eaves, verandahs and carports
Fire and acoustic walls and floors
Bracing solutions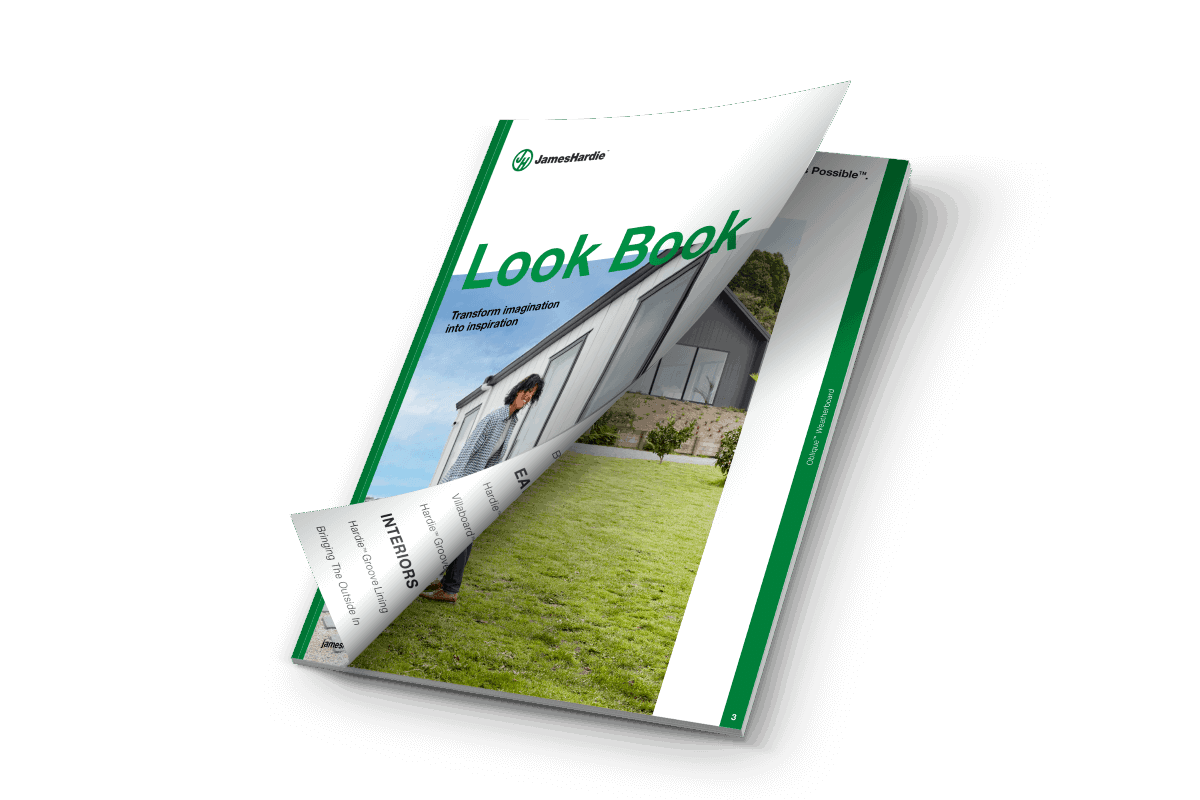 The Look Book
DESIGN INSPIRATION
The Look Book is full of inspiration for home exteriors, interiors, and outdoor areas, covering a wide range of building designs. From classic to modern masterpieces, it's brimming with ways to make your dream home come to life. So download a copy, and be inspired!
NEED SUPPORT?
For immediate general and technical assistance you can call 0800 808 868
Talk to one of our CustomerLink or Technical Team Consultants
CHOOSE YOUR STYLE
Traditional
STYLE
Traditional design gives you that simple classic look, more formal than other design styles, traditional homes feature timeless finishes.
Modern
STYLE
Modern home designs offer clean lines, simple proportions, open layouts, mixed cladding and interesting roof lines.
Horizontal
INSTALLATION TYPE
Clean, horizontal lines establish a look of simplicity and capture a timeless classic charm
Vertical
INSTALLATION TYPE
Vertical lines are a great way to achieve a modern architectural style and make a bold statement
Textured
SURFACE
A wood-grain type finish or board and batten can bring a interest to your outdoor space
Smooth
SURFACE
A smooth finish helps create a clean distinctive design look
EasyLap Panel
Panel
Use EasyLap panels to create a clean look and finish with a textured paint for that rendered look
Linea Weatherboard
Weatherboard
Create the look of a classic weatherboard with deep shadow lines in 150mm width. Add the finishing touches around doors, windows and corners with Axent Trim painted in a contrasting colour
HardieFlex Sheet
Panel
The traditional look of board and batten gives texture and depth to your design. Use EasyLap Panel or HardieFlex Sheet to achieve this classic look
Axon Panel
Panel
Axon Panel 133mm in a smooth finish provides the narrow board look of a traditional design but with a unique vertical look
Linea Weatherboard
Weatherboard
To achieve a look of texture use weatherboards in the wider 180mm profile of Linea Weatherboard for that modern touch
Linea Oblique Weatherboard
Weatherboard
For a modern twist on a classic profile use Linea Oblique Weatherboard. The 300mm profile used horizontally creates a look that's confident and contemporary
Axon Panel
Panel
Be bold with a dramatic full wrap that creates a pristine look. Axon 133mm grained painted black created a dramatic modern look
Stria Cladding
Panel
The wider format of Stria Cladding makes your home look distinctive and modern
get
THE JAMES HARDIE PRODUCT GUIDE
See
INSPIRATIONAL IMAGES OF OUR PRODUCTS