Privacy of Your Personal Information
Policy Last Updated: 1 June 2003
The information that you give us is held with the utmost care and will not be used other than as described in this privacy policy.
Information Collection
We will collect personal information from you only when it is specifically and knowingly provided by you. The Privacy Act of 1993 gives you the right to see or correct your personal information held by James Hardie. At any time, you can view and update your details and unsubscribe to receive email updates via a common link in all email communications and via the My Scrapbook page on the website.
IP Addresses
James Hardie logs IP addresses (the location of your computer on the Internet) for systems administration and troubleshooting purposes. Your IP address is not linked to any personally identifiable information.
Information Use
In order to keep you informed as requested via email, and to host your Scrapbook, we will retain on file the details you completed in the registration form. We may also forward occasional offers and information from our partner companies related to the information you have requested. If you do not wish to receive these offers or information, please advise us. We will not share your information with anyone else.
Security
James Hardie has security measures in place to help protect the loss, misuse, and alteration of the information under our control. All information is stored in a secure operating environment.
The Internet is a constantly evolving environment and we will continuously add new content and functionality to this site. As such, we conduct reviews of our privacy and security policies and procedures when changes are made to our site, when content is added, and when new applications are implemented.
Notification of Changes
If we decide to change our privacy policy, we will post these changes on this page so that you are always aware of what information we collect, how we use it, and under what circumstances we disclose it. Regardless of later updates, we will never use the information you submit under this current policy in a new way without first providing you with an opportunity to opt-out or otherwise prevent that use. You may determine when the privacy policy was updated last by noting the "Last Updated" date directly beneath the title of this page.
If you have questions or concerns about the details outlined in this privacy policy, please email info@jameshardie.co.nz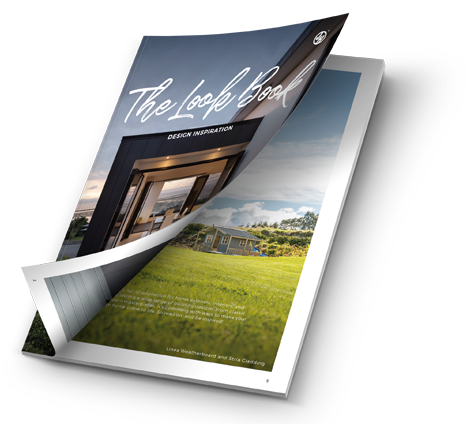 The Look Book
DESIGN INSPIRATION
The Look Book is full of inspiration for home exteriors, interiors, and outdoor areas, covering a wide range of building designs. From classic to modern masterpieces, it's brimming with ways to make your dream home come to life. So download a copy, and be inspired!
NEED SUPPORT?
For immediate general and technical assistance you can call 0800 808 868
Talk to one of our CustomerLink or Technical Team Consultants
CHOOSE YOUR STYLE
Traditional
STYLE
Traditional design gives you that simple classic look, more formal than other design styles, traditional homes feature timeless finishes.
Modern
STYLE
Modern home designs offer clean lines, simple proportions, open layouts, mixed cladding and interesting roof lines.
Horizontal
INSTALLATION TYPE
Clean, horizontal lines establish a look of simplicity and capture a timeless classic charm
Vertical
INSTALLATION TYPE
Vertical lines are a great way to achieve a modern architectural style and make a bold statement
Textured
SURFACE
A textured or wood-grain type finish can bring a softer touch to your outdoor space
Smooth
SURFACE
A smooth finish helps create a clean distinctive design look
James Hardie Weatherboards
Weatherboard
Rusticated and Frontier Weatherboards are perfect when you're after a traditional weatherboard look with a textured finish
Linea Weatherboard
Weatherboard
Create the look of a classic weatherboard with deep shadow lines. Add the finishing touches around doors, windows and corners with Axent Trim painted in a contrasting colour
EasyLap Panel
Panel
Use EasyLap panels to create a clean look and finish with a textured paint for that rendered look
Axon Panel
Panel
Axon Panel 133mm in a smooth finish provides the narrow board look of a traditional design but with a unique vertical look
James Hardie Weatherboards
Weatherboard
Try a textured weatherboard and mix claddings to create a modern look
Linea Oblique Weatherboard
Weatherboard
For a modern twist on a classic profile use Linea Oblique Weatherboard. The 300mm profile used horizontally creates a look that's confident and contemporary
Axon Panel
Panel
Be bold with a dramatic full wrap that creates a pristine look. Axon 133mm grained painted black created a dramatic modern look
Stria Cladding
Panel
The wider format of Stria Cladding makes your home look distinctive and modern
get
THE JAMES HARDIE PRODUCT GUIDE
See
INSPIRATIONAL IMAGES OF OUR PRODUCTS