Stria & Axon Panel solution for modern day living
Homes that are designed for efficiency and modern day living

"Delivering quality housing in the Millwater Development with James Hardie products"
The Millwater development is a new suburb forming 20 minutes north of Auckland city between Silverdale and Orewa, and includes a range of low and medium density housing on undulating farmland with views to bush and sea. Comprised of five communities named after the original farms located at the site, the development will house 10,000 residents.
Horncastle Homes recently released 24 units of its medium density terraced housing development on Parkway, Seaview. Designed by Tim Devine these stunning Cape Cod inspired terraced houses enjoy uninterrupted views overlooking the Millwater mangroves and Orewa river basin.
Using quality, lightweight materials such as Stria Cladding and Axon Panel, Horncastle Homes has achieved a unique boatshed look befitting of the location, while maximising site yield by generating a larger floor area within the homes compared to traditional construction methods, such as brick veneer.
The 145-190m2 two-level homes are either three or four bedrooms, with open plan living, two bathrooms, and double garaging.
"In medium density units such as the Terraces, every centimetre counts," says Horncastle Homes Operations Manager, Murray Stiven. "James Hardie fibre cement composite products maximise floor space due to their smaller footprint."
Lightweight and durable
Lightweight, yet robust, the products are resistant to damage from fire, swelling, cracking, and shrinking, providing a low risk, low maintenance solution ideal for medium density applications. Stiven says the homes are not only designed for efficiency and modern day living, but to be aesthetically pleasing, which is achieved from using quality, versatile materials.
"The James Hardie products provide a complementary cladding system that enabled flexibility with regard to design options and allowed us to achieve an original, high quality finish."

"We spent a lot of time detailing Stria Cladding to achieve the look the product deserves. The wide panel product creates a strong negative detail and gives the homes a solid classic form, while accentuating the height. Meanwhile, the Axon Panels complement Stria Cladding by adding a touch of grace to the homes."
Another benefit of the fibre cement products are their ease and speed of installation, says Stiven. Also, "unlike brick veneer, Stria Cladding and Axon Panel do not require an extra subtrade and can be installed in poor weather," he adds. All 24 units of the terraced homes sold out before completion, highlighting the strong appeal of these high quality homes.

Another benefit of this relationship is continuity of supply for the large number of builds in Auckland. Certainty of delivery and consistency is a key focus of the Universal Homes building process – all Universal Homes are pre-designed, using robust, quality materials.
Grant Coutts Construction Manager of Universal Homes says that is why they use HomeRAB Pre-Cladding in all their builds. "HomeRAB is a cost effective pre-cladding that provides increased construction efficiency, which helps us to deliver outstanding value to customers."
"A key benefit is early close-in, which means we avoid delays due to weather; removing the need to reschedule sub-trades and reducing unplanned equipment hire costs. Because HomeRAB Pre-Cladding provides certainty in the project schedule, sub-trades can be booked well in advance, which is critical in a resource constrained market."

For example, during an industry shortage of brick layers, Universal Homes used HomeRAB Pre-Cladding to close in builds early, so delays from trade availability did not affect other works on-site.

Each panel is engineered with a green water repellent sealer to keep moisture out, while ensuring the panel remains dry. This means that when the product is exposed to the weather it will not warp or shrink and can be exposed for up to 180 days.

Location
Millwater, Auckland. New Zealand
Featured Products
Industry Professionals
Designed by Bruce Campbell and Tim Devine, built by Murray Stiven of Horncastle Homes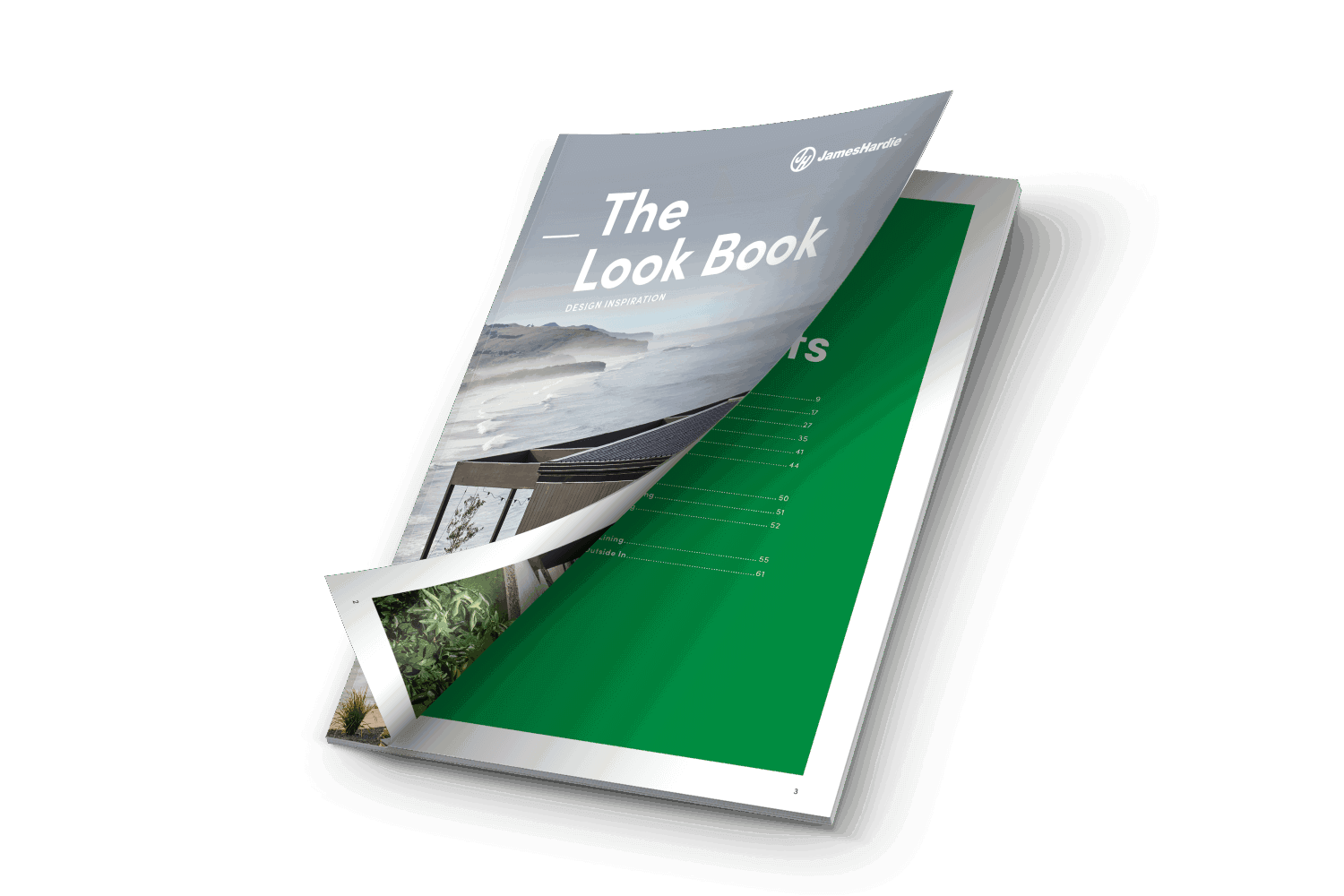 The Look Book
DESIGN INSPIRATION
The Look Book is full of inspiration for home exteriors, interiors, and outdoor areas, covering a wide range of building designs. From classic to modern masterpieces, it's brimming with ways to make your dream home come to life. So download a copy, and be inspired!
NEED SUPPORT?
For immediate general and technical assistance you can call 0800 808 868
Talk to one of our CustomerLink or Technical Team Consultants
get
THE JAMES HARDIE PRODUCT GUIDE
See
INSPIRATIONAL IMAGES OF OUR PRODUCTS