James Hardie Warranty & Legal Information
Warranty & legal information

All James Hardie products are sold with a full product warranty. For details of the warranty terms applying to any particular product, please see the relevant product manual.
The product applications and installation recommendations described in this website have been formulated along the lines of good building practice. However, they are not intended to be an exhaustive statement of all the relevant data. Customers should obtain detailed advice from architects, designers, builders or other building and construction industry professionals to ensure that any particular product or installation method is fully-suited to the specific project being undertaken.
Details of designers, builders and other building industry participants are published in this website for information purposes. This publication does not constitute an endorsement of these participants by James Hardie. Customers should make their own enquiries to ensure that a person or business is appropriate for the customer's particular needs.
For convenience, this website contains other website addresses and links to other websites. This is published for information purposes. James Hardie does not endorse, approve of, or make any representations or warranties in relation to the information published on those other websites. James Hardie is not responsible and will not be liable for any information published on those other websites.
Trademarks
™ and ® denotes trademarks which are published on this website and are trademarks or registered marks owned by James Hardie Technology Ltd. These trademarks may not be copied, used or reproduced in any manner without James Hardie's express written consent. A product brochure containing a trademark may be downloaded and printed for personal use by customers.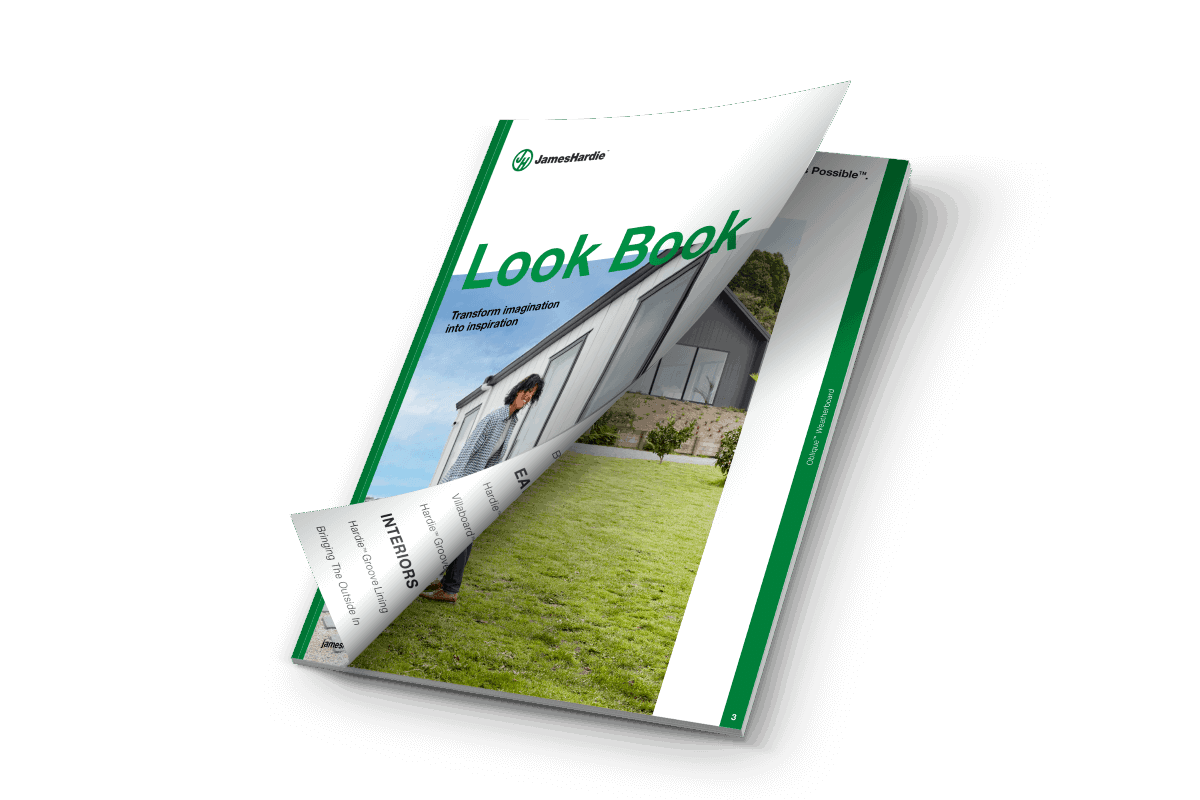 The Look Book
DESIGN INSPIRATION
The Look Book is full of inspiration for home exteriors, interiors, and outdoor areas, covering a wide range of building designs. From classic to modern masterpieces, it's brimming with ways to make your dream home come to life. So download a copy, and be inspired!
NEED SUPPORT?
For immediate general and technical assistance you can call 0800 808 868
Talk to one of our CustomerLink or Technical Team Consultants
CHOOSE YOUR STYLE
Traditional
STYLE
Traditional design gives you that simple classic look, more formal than other design styles, traditional homes feature timeless finishes.
Modern
STYLE
Modern home designs offer clean lines, simple proportions, open layouts, mixed cladding and interesting roof lines.
Horizontal
INSTALLATION TYPE
Clean, horizontal lines establish a look of simplicity and capture a timeless classic charm
Vertical
INSTALLATION TYPE
Vertical lines are a great way to achieve a modern architectural style and make a bold statement
Textured
SURFACE
A wood-grain type finish or board and batten can bring a interest to your outdoor space
Smooth
SURFACE
A smooth finish helps create a clean distinctive design look
EasyLap Panel
Panel
Use EasyLap panels to create a clean look and finish with a textured paint for that rendered look
Linea Weatherboard
Weatherboard
Create the look of a classic weatherboard with deep shadow lines in 150mm width. Add the finishing touches around doors, windows and corners with Axent Trim painted in a contrasting colour
HardieFlex Sheet
Panel
The traditional look of board and batten gives texture and depth to your design. Use EasyLap Panel or HardieFlex Sheet to achieve this classic look
Axon Panel
Panel
Axon Panel 133mm in a smooth finish provides the narrow board look of a traditional design but with a unique vertical look
Linea Weatherboard
Weatherboard
To achieve a look of texture use weatherboards in the wider 180mm profile of Linea Weatherboard for that modern touch
Linea Oblique Weatherboard
Weatherboard
For a modern twist on a classic profile use Linea Oblique Weatherboard. The 300mm profile used horizontally creates a look that's confident and contemporary
Axon Panel
Panel
Be bold with a dramatic full wrap that creates a pristine look. Axon 133mm grained painted black created a dramatic modern look
Stria Cladding
Panel
The wider format of Stria Cladding makes your home look distinctive and modern
get
THE JAMES HARDIE PRODUCT GUIDE
See
INSPIRATIONAL IMAGES OF OUR PRODUCTS